Our story
Being in the construction industry for more than 25 yrs, the company's founder, Adam Benning, developed a moral dilemma about some of the unfortunate realities of the residential renovation industry. With excessive waste filling up the landfills and extensive resources going into creating large homes, he decided to shift his focus. This prompted him to embark on a journey that continued to allow him to build high quality products for amazing clients, but to do so on a smaller scale, and in a more sustainable manner.
Our Mission
Our mission is to create living spaces that are built to last a lifetime, using local materials and trades wherever possible. Minimal waste production and creating a small carbon footprint are things we value highly, and strive to achieve on a daily basis.
Our Values
We absolutely believe that when it comes to the homes we live in, making a positive difference to our planet can start here.
Founder
Adam Benning
Adam was born and raised in New South Wales, Australia. He spent five years in Sydney construction circles which taught him a lot of the skills he would later put to use halfway across the world. In 2001 Adam moved to Canada and has since enjoyed living and working on Vancouver Island, running a small residential construction company based in Victoria. He has built a reputation for quality craftsmanship and is well known for his keen attention to detail in both design and construction. Adam also has a passion for the great outdoors and enjoys spending most of his spare time exploring the vast ocean and forests of western Vancouver Island. It is this love of nature and the great outdoors which has inspired his search for a more sustainable way of living and the launch of West Coast Container Homes.
Carpenter/Apprentice
Christian Dennis
Christian was born and raised in Kamloops, BC. He joined, and quickly became an integral part of West Coast Container Homes in 2020 after deciding carpentry and sustainable building were a shared passion that he was excited to explore. Fast forward 2 years, Christian is now a key figure in what we do here at West Coast Container Homes and continues to apply his amazing personality and hard work ethic to make this operation successful on a daily basis.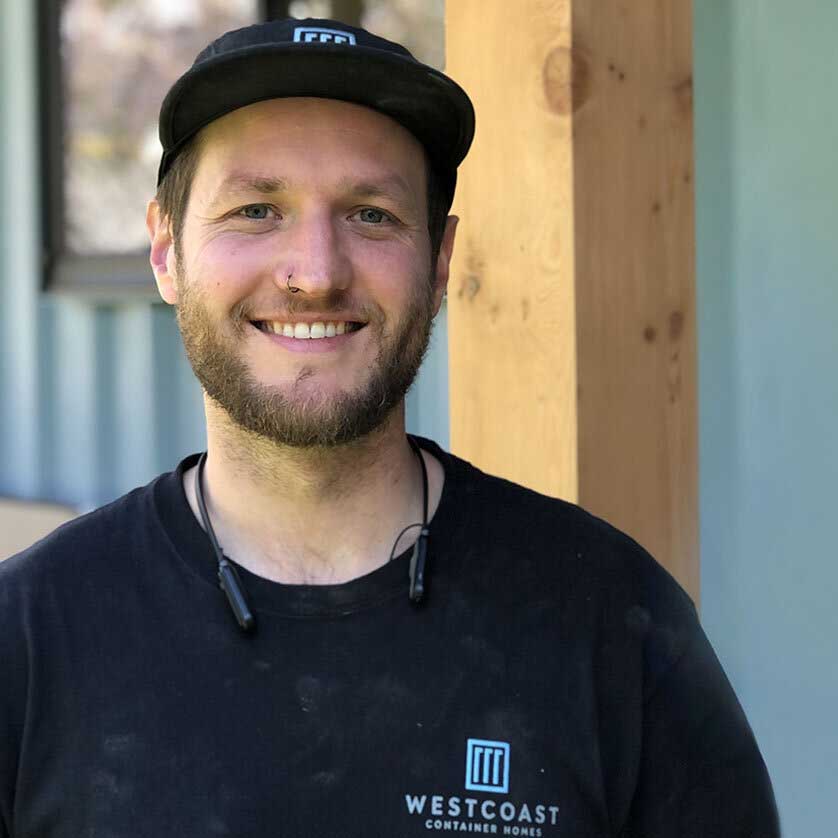 THE TEAM
Projects like these don't just happen. They take a lot of hard work from many talented people. Our extended team spans countless people who, like us, absolutely believe in what we are doing here. These include Landscapers, Plumbers, Electricians, Engineers, Admin, Draftsmen Metal Fabricators, Additional Carpenters, Drywallers, Painters, Metal workers, Planting Experts, Crane and Truck Drivers, Delivery Drivers Window, Flooring and Appliance Suppliers, Shipping Container Suppliers, Millworkers, Stone Quarries, Architects and more!
The team we have assembled here at West Coast Container Homes is simply second to none. All of our professionals are fully certified and contribute decades of experience and expertise to the construction of each container home.
Why West Coast Container Homes?
#Simple
Our business model is founded on the desire to create beautiful, simple and unique alternatives to people who need more space. We strive to deliver this while providing top notch customer service to every single one of our clients.
#Sustainable
We work to minimize our impact on the planet while creating much needed extra space within our community. Our products make use of repurposed materials and rely on the amazing network of local businesses and suppliers on Vancouver Island.
#BuiltForLife
We have a laser-like focus on creating high quality products that are built to last a lifetime.