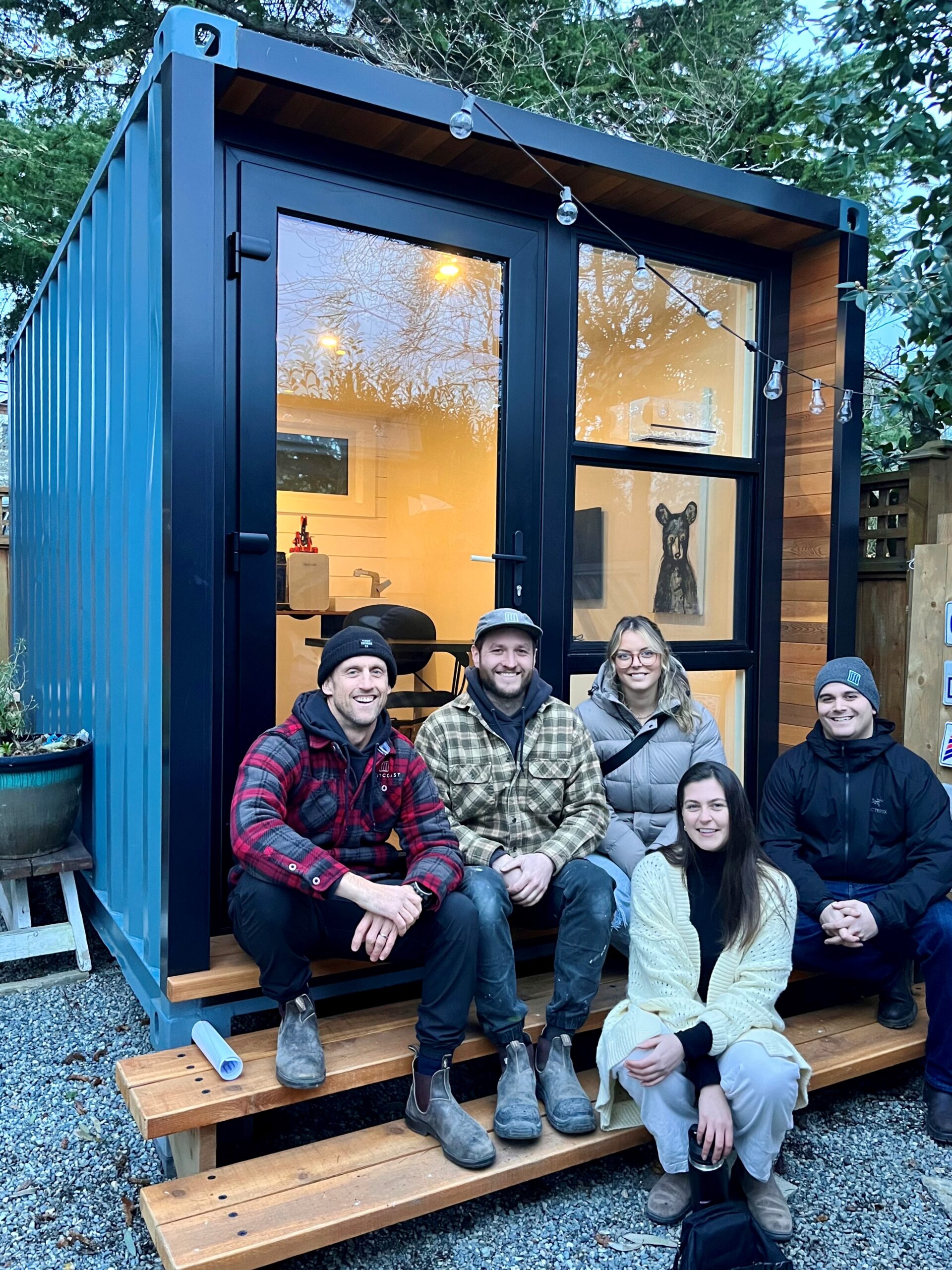 Our story
Being in the construction industry for more than 25 yrs, the company's founder, Adam Benning, developed a moral dilemma about some of the unfortunate realities of the residential renovation industry. With excessive waste filling up the landfills and extensive resources going into creating large homes, he decided to shift his focus.
This prompted him to embark on a journey that continued to allow him to build high quality products for amazing clients, but to do so on a smaller scale, and in a more sustainable manner.
Our Mission
Our mission is to provide high quality, functional and sustainable solutions to the problems people face in their lives today. We are committed to top notch customer service, constantly striving to make every interaction a GREAT one right across the board, from top to bottom.
We pride ourselves on simplicity and crystal clear clarity of process, which, when combined with great communication, allows us to deliver a truly unique building experience like no other.
OUR CORE VALUES
Our Core Values provide a guiding light for us to do what we do every day. They are the beating heart from which everything else in our company stems from, and have become the fabric of who we are, what we are about and why we do what we do. 
Learn more about the heart of our company…
People
It's all about the People. You've heard it before, but what does it really mean here at West Coast Container Homes?
For us, people are EVERYTHING. All other core values within our company are derived from people. People provide the passion, people display the gratitude, and people project the positivity needed to feel awesome. Without the right people, none of our additional core values can exist.
In a nutshell, we think people are incredible! People exist in a plethora of different physical forms, mental capacities and personality types. Some are good at IT, and some are good at banging nails. At our company, we believe that to help a person succeed and be genuinely stoked in life, you must first understand the individual and what they are good at in order to set them up for success…in their correct lane.
Our goal with understanding the people we work with is to avoid situations where the IT person is banging nails and the carpenter is trying to figure out a new software… or similarly, where a client may be unhappy or stressed out due to our team not fully understanding how they operate (their personality) and what they might need from us outside of the product we are delivering.
Do you know your personality type, what you are good at, and what your lane is? It is our mission to find this out with you!
Passion
Work is such a huge part of all our lives and it occupies alot of physical time throughout our lifespan. If you are not doing or pursuing something you are invested in and that excites you, then why do it?
Passion, excitement or froth, whatever you want to refer to it as, is the feel good injection of dopamine we get when we find ourselves slaying tasks that we are epic at, particularly when this occurs in a team environment. It typically comes with a huge sense of personal pride and accomplishment which boosts our confidence, allowing us to transfer this to all other aspects of our life.
What we do for work should excite us, challenge us, and make us feel EPIC when we absolutely crush it! If we are able to find this lane that excites and challenges us on a daily basis, we are going to feel EPIC more often than not… which is, by nature, the definition of FROTH!
Gratitude
Doing awesome things and feeling great about it over any period of time gives us a sense of accomplishment, and allows us to look back on days, weeks, months or years past, and be proud of our achievements.
When we are proud, confident and feeling great, we are then able to easily access the time and space needed to reflect and be gracious for all the opportunities that have presented themselves to us in the past… which we grabbed with both hands!
Not everyone is able to access this mental department on a daily, or even weekly basis, as gratitude seems to grow stronger as more time passes, goals are set and achievements are conquered. Taking time to appreciate everything that allows us to do what we do, in the way we do it, is an important part of growth and directly impacts our positive outlook right now.
Founder
Adam Benning
Adam was born and raised in New South Wales, Australia. He spent five years in Sydney construction circles which taught him a lot of the skills he would later put to use halfway across the world. In 2001 Adam moved to Canada and has since enjoyed living and working on Vancouver Island, running a small residential construction company based in Victoria.
He has built a reputation for quality craftsmanship and is well known for his keen attention to detail in both design and construction. Adam also has a passion for the great outdoors and enjoys spending most of his spare time exploring the vast ocean and forests of western Vancouver Island.
It is this love of nature and the great outdoors which has inspired his search for a more sustainable way of living and the launch of West Coast Container Homes.
Carpenter/Apprentice
Christian Dennis
Christian was born and raised in Kamloops, BC. He joined, and quickly became an integral part of West Coast Container Homes in 2020 after deciding carpentry and sustainable building were a shared passion that he was excited to explore.
Fast forward 2 years, Christian is now a key figure in what we do here at West Coast Container Homes and continues to apply his amazing personality and hard work ethic to make this operation successful on a daily basis.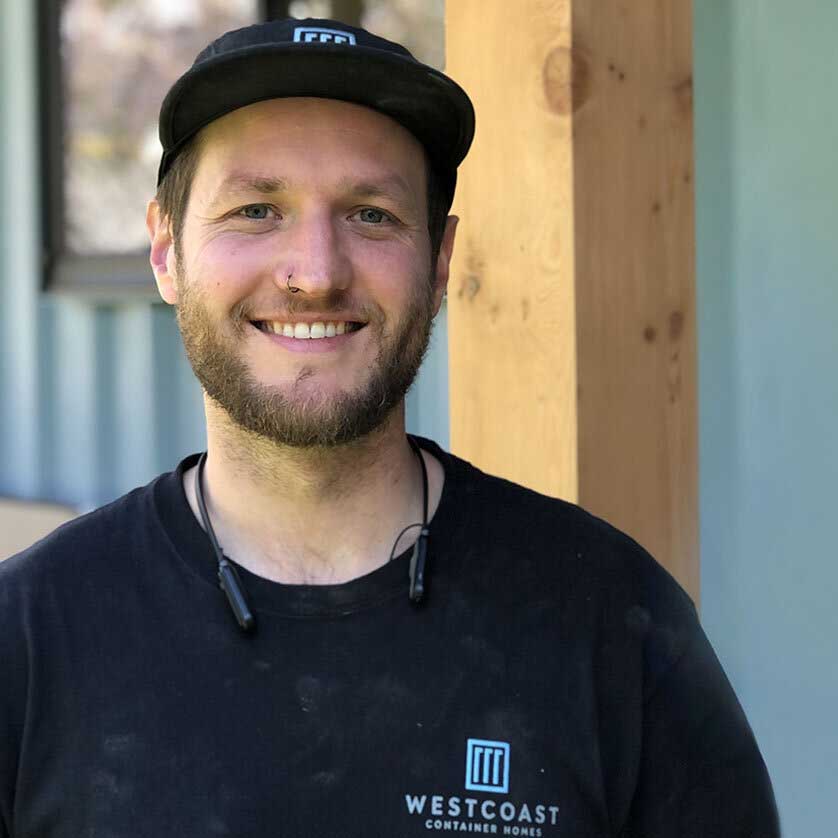 Site Foreman/Lead Carpenter
Nick Urff
Meet Nick, the quintessential West Coaster with a passion for construction! Growing up in Ladner, a fishing and farming community, Nick eagerly learned carpentry from his dad from a young age. He then went on to study post secondary at the University of Victoria where he also worked as an exterior finisher and jobsite foreman at the same time. It was during this time that he discovered his true calling in the construction industry.
Fast forward to now, with over 15 years of experience running his own contracting company in Vancouver, Nick's transition into our West Coast 'family' was lightning quick and he will fast become 'the guy' that everyone looks up to when it comes to our innovative and sustainable solutions for Canada's housing industry.
When he is not busy building Pods, Nick can be found down at Beacon Hill Park yelling 'HOWZAT' during a game of cricket. However, his true passion is realized when he is exploring the West Coast with his wife and two dogs in his classic Land Rover… now you can't get much more 'West Coast' than that!
Business Development Manager
Chris Sanii
Chris was also born in Vancouver, B.C and comes to us from an engineering background who is extremely passionate about sustainability and innovative projects! He also has a major passion for solving complex puzzles…which he is extremely good at as it turns out! From the very first day, Chris has been a key figure in working closely with the company founder to guide and steer the West Coast 'dream' of solving problems people have in their lives today! Chris has quickly become a key player in the business development group, bringing his wealth of technical and experiential knowledge to the table, helping to shape everything we do. We feel very fortunate and privileged to have Chris on our team!
When he is not crushing puzzles at work, Chris can often be found hanging out with his beloved wife, dog and friends at a plethora of sporting activities around Victoria City… touch rugby, flag football, squash and hockey, just to name a few!
OUR EXTENDED TEAM
Projects like these don't just happen. They take a lot of hard work from many talented people. Our extended team spans countless people who, like us, absolutely believe in what we are doing here.
These include Draftspersons, Metal Fabricators, Landscapers, Plumbers, Electricians, Engineers, Admin, Draftsmen Metal Fabricators, Additional Carpenters, Drywallers, Painters, Metal workers, Planting Experts, Crane Drivers,  Truck Drivers, Window and Flooring Suppliers, Shipping Container Suppliers, Millworkers and Inspecting Officials!
The team we have assembled here at West Coast is simply second to none. All of our professionals are fully certified and contribute decades of experience and expertise to what we do.
Why West Coast Container Homes?
#Sustainable
We work to minimize our impact on the planet while creating much needed extra space within our community. Our products make use of repurposed materials and rely on the amazing network of local businesses and suppliers on Vancouver Island.
#BuiltForLife
We have a laser-like focus on creating high quality products that are built to last a lifetime.